Her Name is Amore: Opelika Jane Doe Identified
On Jan. 19, 2023, the Opelika Police Department held a press conference in Alabama to announce that "Opelika Jane Doe" had been positively identified as Amore Joveah Wiggins. Amore was born on Jan. 1, 2006.
Amore's identification is a result of over a decade of hard work from numerous agencies who were all dedicated to finding her name. In June 2012, the Opelika Police Department requested assistance from the National Center for Missing & Exploited Children (NCMEC). Over the years, NCMEC deployed Team Adam, our team of retired law enforcement professionals that provide free on-site assistance to investigative agencies, our forensic artists created a facial reconstruction and numerous media blasts were sent out in hopes of generating a lead that could result in an identification. 
In late 2021, our Forensic Services Unit facilitated another round of DNA testing at Astrea Forensics lab to continue to attempt to create a genealogy profile for Amore. Astrea Forensics is a NCMEC lab partner and was able to provide the work pro-bono to Opelika PD. Opelika PD also submitted another sample to Othram labs independently. By early 2022, both Astrea Forensics and Othram labs were successful in developing a genotype file. Genealogist Barbara Rae-Venter, who works closely with NCMEC, was assigned and proceeded with the research that would ultimately prove to be the key to finding Amore's parents and her identity. 
According to law enforcement, Amore's biological father and stepmother were arrested in Florida earlier this month in connection with her death. Lamar Vickerstaff Jr. is charged with felony murder and his wife, Ruth Vickerstaff, who is not Amore's mother, is charged with failure to report a missing child. Both are being held on a Fugitive Warrant of Extradition and are expected to be extradited to Alabama in the coming weeks. 
At the press conference, Opelika Police Chief Shane Healey was visibly emotional at the update but clearly proud of the level of dedication given to this case over the last 11 years. 
"I want to commend NCMEC, Barbara Rae-Venter, the FBI, Othram, Astrea and my entire team for all their hard work.  Without it, we may have never known her name..."
"Amore Wiggins. It feels really good to say her name out loud."
Original blog written by Rebecca Steinbach
10-07-2021
In the shadows of Auburn University in Eastern Alabama is the small town of Opelika. It's where Sergeant Alfred White and the Opelika Police Department are fighting to get justice for a little girl with no name. Her remains were found behind a mobile home off Hurst Street on January 28, 2012. She's believed to be between four to seven years old and a pink, long sleeve shirt with heart buttons and ruffles was found nearby. She's now known as "Opelika Jane Doe" and detectives say it's been an emotional case for them since day one.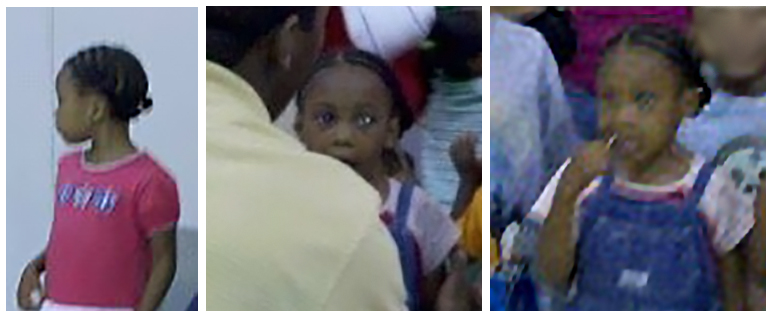 Early in the investigation, it was determined that she was abused and neglected for years. Police say the abuse left her eye blind and scarred until she was ultimately killed during the summer of 2011 or sometime in 2010. "Based on feedback from experts, we believe that she could not see out her of injured eye and that the injury could have occurred months to a year before her death," said Sgt White. "This information is vital because we know that the injury was visible to anyone who interreacted with the girl and may play a crucial role in identifying her." It has already proven to be extremely important. Several years ago, the investigation led to photos of a child at a local Vacation Bible School. The girl in the photos has not been identified and police believe she is Opelika Jane Doe. The images were taken in the summer of 2011 at Greater Peace Community Church, located just three miles from where Opelika Jane Doe was found. "We know there are people who have information about who this child is. We've tracked down tips from across the country and now believe that she may have ties to the Orlando, Florida area," said White. "We won't stop until we can give this child her name back. She was just a little girl; she deserves dignity and a proper burial."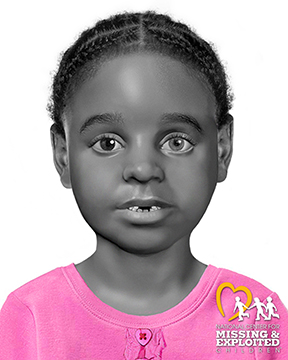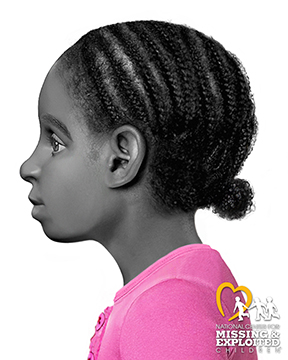 Police now hope new forensic images will finally lead to Opelika Jane Doe's real name. A forensic anthropologist with the Smithsonian was brought in to provide greater insight into what the child may have looked like and with that information, the National Center for Missing & Exploited Children (NCMEC) has created an updated images of what Jane Doe may have looked like before her death. "Please take a moment to look closely at this face. This little girl needs your help," said Angeline Hartmann, Director of Communications at NCMEC.  "If you don't recognize her, you can still help by sharing her image."  If anyone has information about Jane Doe, please call the Opelika Police Department at 334-705-5200 or the National Center for Missing & Exploited Children at 1-800-THE-LOST or go to facebook.com/helpIDMe to submit a tip.