A Family's Heartbreak: "We just want her home"
It's been eight years since Natanalie "Naty" Perez disappeared in Miami, and her family wants her to know they love and miss her every single day – that big smile, how she was always the first to text them back, the way she valued her family, her church and her Bible above all else.
They were thrilled when she graduated from high school in Sebring, Florida and moved to the big city to chase her dreams. Naty is a talented singer, and her girlfriend got the 19-year-old excited about the "amazing" opportunities there.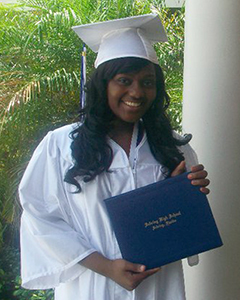 Natanalie's graduation photo.
But Naty wasn't in Miami long before she became ensnared in a violent sex-trafficking ring that catered to wealthy men in fancy hotels, and her family was powerless to help her. Now, eight years later, her family is pleading with those who professed to be her friends to tell them what happened to her.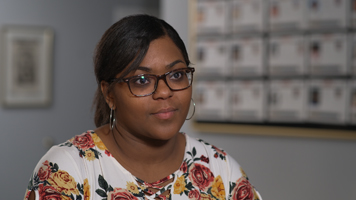 Naty's sister.
"No matter what, we're here and we're family and we're not going to give up on her," says her younger sister, Mary Lee Villanueba, who has since had four children. "We just want her home. I'm willing to face whatever with her. I'm not scared. So, I don't want her to feel scared."  
Villanueba learned her sister was missing on June 1, 2012, when her sister's boyfriend in Miami called her. "What do you mean she's missing?" Villanueba said.  The boyfriend said they'd had a fight the night before, he woke up and she was gone. Her family kept calling her cellphone; it went straight to voicemail.
In the months before they learned she was missing, her family was sensing trouble. Naty's cousins, who also lived in Miami, told their mom that Naty was seen around town with the wrong crowd, people who scared them.
Naty all but vanished from social media, which she loved, and rarely texted or called home anymore. When she did, she assured her family she was okay but didn't sound like herself. Her answers were short, like someone was listening.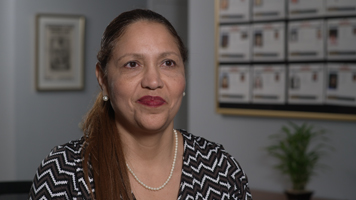 Naty's aunt.
Her aunt, Maria Mitil, was frantic to help her niece, who was like a daughter. Police said they couldn't do anything because she was an adult, so Mitil could only hope that Naty would call her family if she needed help. It wasn't long before she did, and Mitil asked her sons to bring her back home.
When her cousins found her, "her nails were flipped back with blood in her hands, and her hair was ripped from the top of her head," her aunt says.
Her niece was traumatized, and Mitil took her aside and gently coaxed her to talk. Naty said she was being forced to do things she didn't want to do, that she was being videotaped.
"She was just so scared," she said of her niece, who was shaking and would not go to the police. "She said, 'I mean, you know, there's so many people involved, people, you know, judges, attorneys, um, people with a lot of money. I don't want to put anybody in danger.'"
Naty described a world of high rollers where "we dress like rich girls" and were sold for sex to powerful men with millions of dollars and expensive cars. She was drugged and beaten to comply, not given food. She mentioned Backpage, a website where clients could see her photos and buy her for sex with a credit card.
Then Naty told her aunt about all the other girls caught up in the sex trafficking ring, some from other countries, others from small towns, just like hers.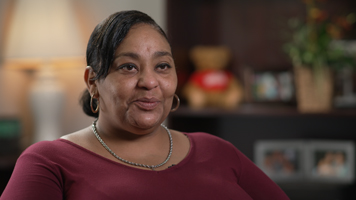 Naty's mother.
During her short visit home, Naty stayed with her mother, Ana Gutierrez, in Sebring. Looking back, her mother remembers how her daughter was on the phone every night, all night. Her sister had shielded her from the truth, but now that she knows, she believes Naty's pimp was keeping tabs on her. Before she knew it, Naty was on her way back to Miami.
Mitil pleaded with her niece to stay and regrets to this day that she didn't somehow restrain her. "Don't you know what they're doing to you? she said. "They touch my body," Naty said. "But they can't touch my soul."
It was the last time they saw Naty.
After Naty was reported missing to police, the family, led by Mitil, took to the streets of Miami to find her. They got dressed up and went to glitzy nightclubs they would never dream of going in, asking if anyone had seen her. They looked for clues on her Facebook page. They worked with the Anti-Predator Project. They hired a private detective. They began working with us at the National Center for Missing & Exploited Children.
Mitil met with a Miami detective, who told her the best thing that could happen would be if Naty was arrested for prostitution. She was incredulous. Her niece was a victim, and this sex trafficking ring was destroying many young lives.
"Either someone has her or they did something to my kid," said her mother. "But, I mean, if people don't talk, this is going to be a never-ending story. There's people out there, right in my town. They know what's going on because they took my daughter to Miami and they knew exactly what they were doing when they took her."
Mitil takes solace in the fact that other girls from Naty's hometown are safe today because they saw how her trusting niece was so easily swept up into a dangerous situation. Mitil has devoted her life to social work and helping others since she couldn't help her niece.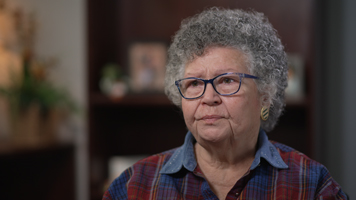 Naty's grandmother.
Now, all Naty's family can do is hope someone will step forward. Her grandmother, Maria Perez, says she knows there must be kindness in the hearts of those who know what happened, and she appealed to them to help bring Naty back. "Every day is like a dying day until we see her," she said.