Every Child Deserves a Safe Childhood: Working Together to End Child Sex Trafficking
By Sarah Baker and Carol Summers
"Trafficking in persons is a vile crime that feeds on inequalities, instability and conflict. Human traffickers profit from peoples' hopes and despair. They prey on the vulnerable and rob them of their fundamental rights. On this World Day against Trafficking in Persons, let us come together around the key issues of prevention, protection and prosecution to build a future where this crime cannot exist." 
               -Statement of the United Nations Secretary-General António Guterres on United Nations World Day against Trafficking in Persons – July 30, 2018
Launched in 2013 by the United Nations, "World Day Against Trafficking in Persons," observed on July 30, was created to bring awareness to the ongoing fight against human trafficking of both adults and children. Follow us throughout the day on social media @MissingKids as we raise awareness, share information about things you might observe in your everyday lives, and provide resources for where you can report it, if you do.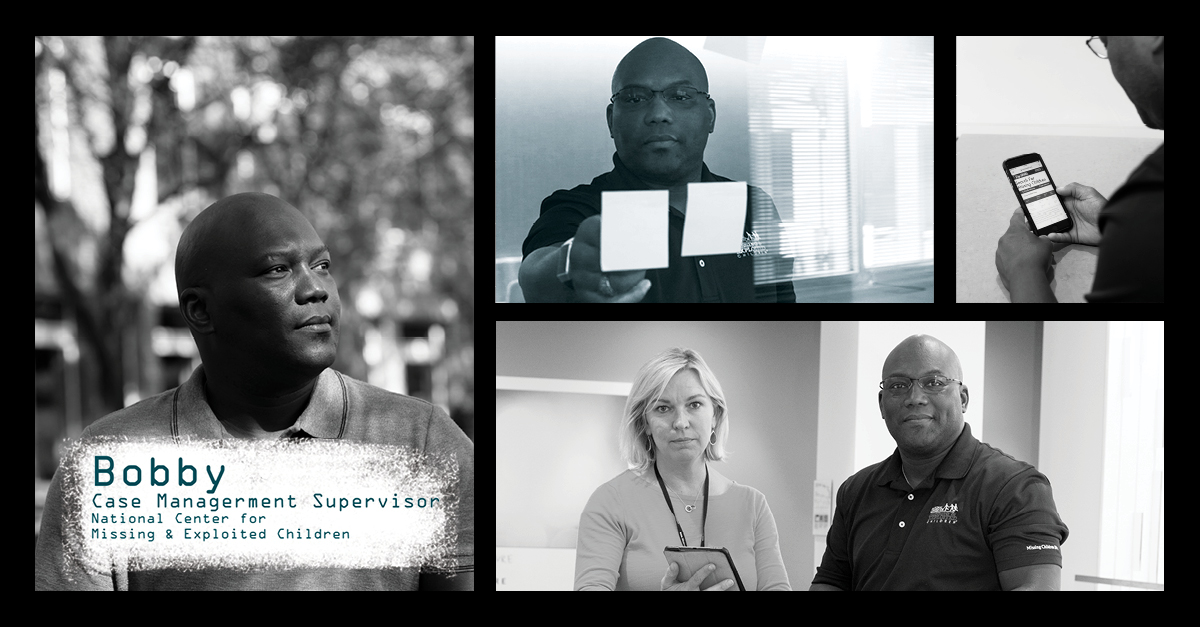 While this is a world-recognized day, we at the National Center for Missing & Exploited Children know that child sex trafficking happens every day, in every type of community in America.
For over thirty-five years, NCMEC has pursued our nonprofit mission to help find missing children, reduce child sexual exploitation, prevent child victimization, and help eliminate child sex trafficking. NCMEC's mission is not only to increase public awareness regarding these issues, but also to achieve direct, real-world results by helping to locate, recover, and reunify missing children—including victims of child sex trafficking—with their families.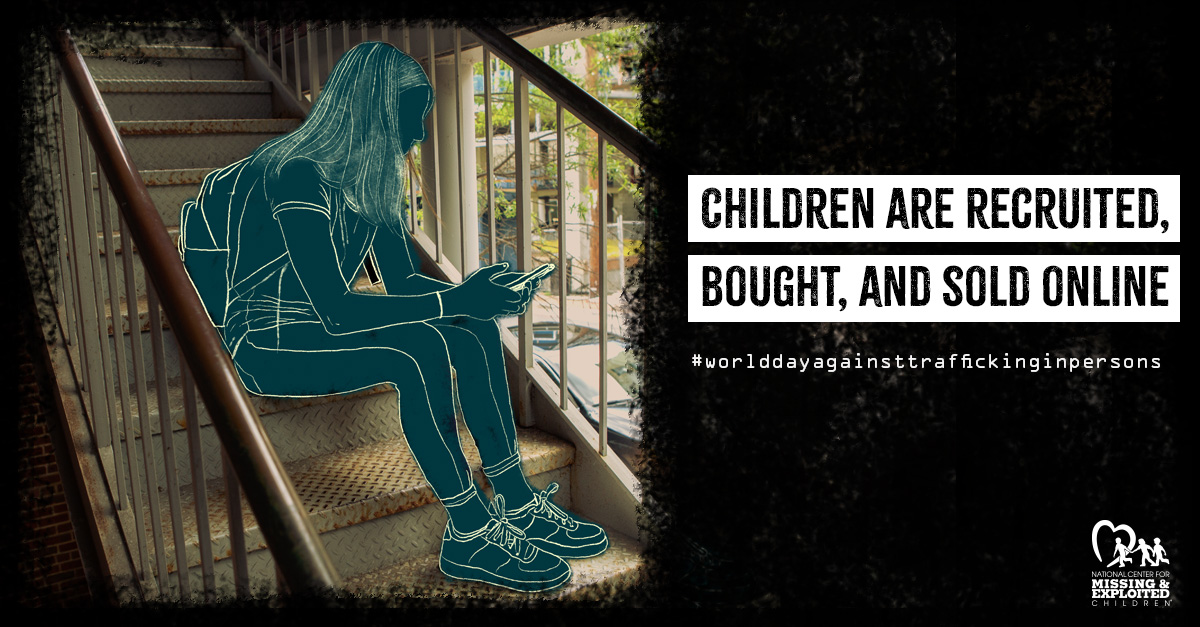 Every child deserves a safe childhood and NCMEC takes a comprehensive approach to combat this issue by providing dedicated case management, analysis, technical assistance, and victim support services.  These resources support law enforcement, first responders, and victim specialists in their efforts to recover victims and build strong cases against individuals involved in trafficking children, while also providing families ongoing support and care as they suffer through and heal from this horrific crime.
Through our use of social media –  including on social awareness days, like World Day Against Trafficking in Persons –  the public is more aware than ever before of child sex trafficking. This increased awareness has helped people recognize the signs when they see them and take action. No lead is too small.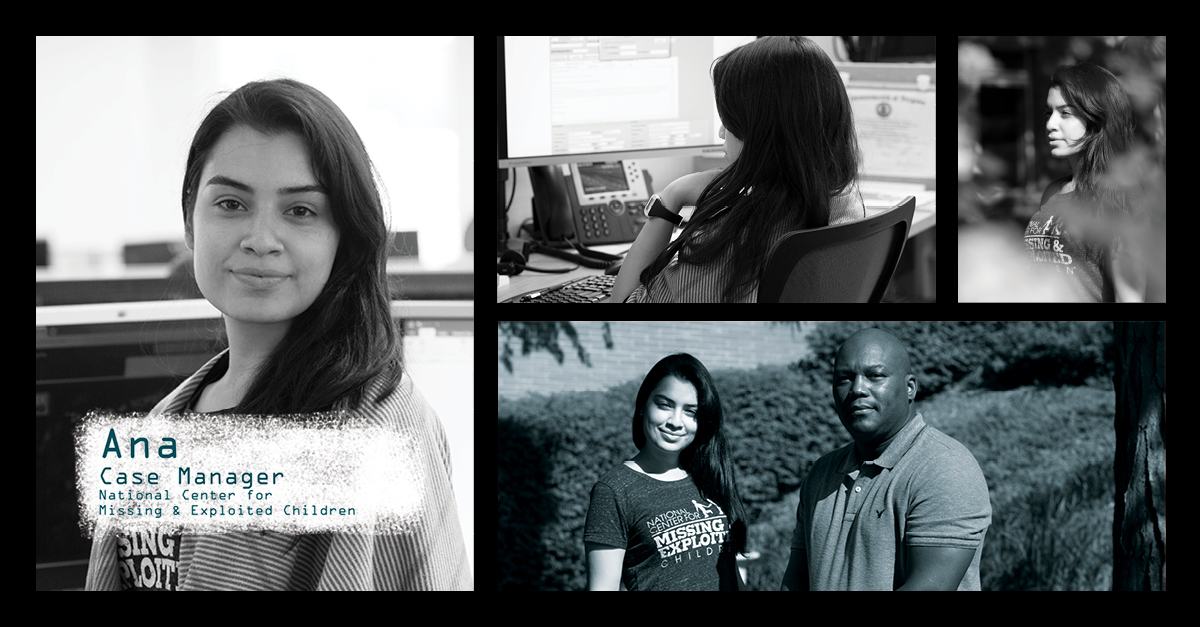 Children are our most vulnerable members of society. Stand up and fight for them. Let's end child sex trafficking together. Visit: https://www.missingkids.org/theissues/trafficking and learn how you can help. 
If you suspect a child is being sold for sex or sexually exploited, make a report to CyberTipline.org or pick up the phone and call 1-800-THE-LOST (1-800-843-5678). One report, one person can make the difference.
Live Streaming: What You Need to Know to Keep Kids Safer
Live streaming is now available on almost every popular social media platform with the click of a button.  Therefore, if your child has a communication device, they likely have a device capable of livestreaming. Livestreaming has become a phenomenon on social media allowing children to communicate via video stream in real time with the world, including those who may wish them harm.
Aside from being a popular way to communicate in the online world with their peers, children frequently livestream in order to create online content to make people laugh, obtain followers and engage in the online community. However, this seemingly innocent and curious behavior inherent to children's social development can have serious, life-altering risks.
At NCMEC, we see negative consequences of children live streaming every day. Our CyberTipline is the nation's centralized reporting system for the online exploitation of children. Within these CyberTipline reports, we see children victimized in numerous ways. Your child's presence on a livestreaming platform means they are now exposed to millions of people at the touch of a button, including individuals who wish to harm children. These ill-intentioned individuals are aware of the unique vulnerability of children online and often entice children to undress, expose themselves on camera, engage in sexual activity independently and with others (i.e. siblings, friends, pets) and engage in self-harming behaviors.
Just because you are home, or in the same room, does not mean your child is less vulnerable to harmful individuals online. Many of the live streaming videos we see do not depict a child verbally speaking to these individuals, yet they're still being victimized. We see children reading comments from viewers instructing them to engage in sexual or self-harming behaviors. We also oftentimes see children responding to viewers by divulging personal information including where they go to school, their phone number and even their home address—which poses a risk to the entire family.
Here at NCMEC, all reports of child sexual exploitation received by the CyberTipline are made available to law enforcement. This means law enforcement could become seriously involved if your child is victimized or engaging in this type of behavior online.
Bottom line: The internet should be a fun and safe environment for children, however, it also puts children in an extremely vulnerable position to harmful individuals "hidden" behind a screen. Help keep children safer by knowing what technology and apps your child is using. Be sure to discuss appropriate behaviors online and dangers as they pertain to the online world. Create rules in your household that prohibit the use of technology behind closed doors, to include bedrooms and the bathroom. Be aware, be present and have ongoing conversations with your child about their online and real-world activities.
If you suspect a child is being exploited online, report it to the CyberTipline.
####
AS Roma Scores for Missing Children!
Over the past few years, the Italian professional football club, AS Roma, has made a name for itself when it comes to the club's social media reputation…and this year is no different! For the first time ever, AS Roma is partnering with the National Center for Missing & Exploited Children, as well as Telefono Azzurro in Italy, to help bring missing children home. In 2018 alone, NCMEC received 350 international cases in which a child was either removed from or left the United States for another country. Leveraging its extensive social media presence, AS Roma's global campaign will feature a missing child in every video posted by the club during player signing announcements.
AS Roma will work with NCMEC and Telefono Azzurro to identify missing children to feature in the videos. Much like NCMEC, Telefono Azzurro is part of the Global Missing Children's Network, and operates 24/7 to ensure there's always an immediate response to a situation regarding a missing child.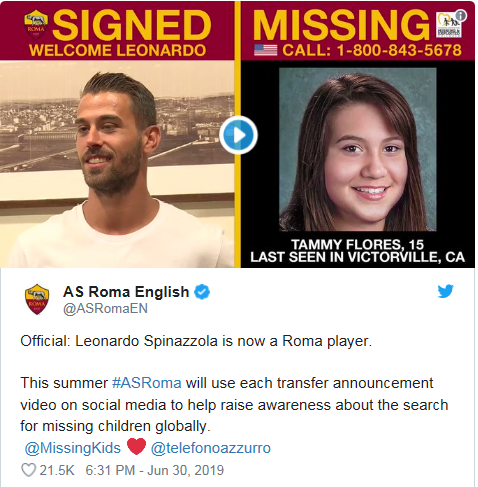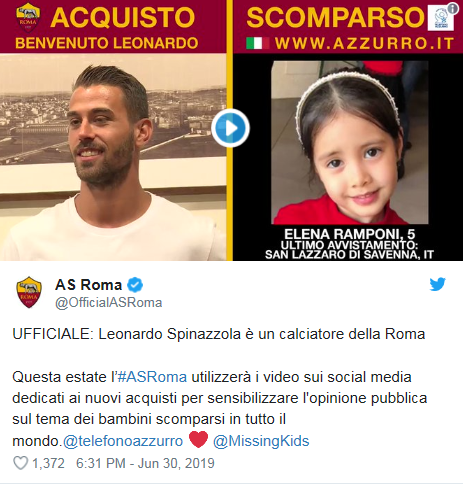 "Today, a significant number of abducted children from the United States are taken internationally," explains Robert Lowery, the vice president of NCMEC's Missing Children Division. "Our partnership with AS Roma gives us a unique opportunity to share images and information with a world-wide audience that will greatly enhance the ability to find these children and return them safely to their families. We are most grateful to AS Roma for its commitment to protecting kids and making our world a safer place."
With over 15 million followers on Twitter, the club's digital presence and global following will allow for extensive exposure for many international missing children cases. So far, the videos have received millions of views and the campaign has received shout outs on CNN, the ESPN Soccer Blog, The Washington Post, Sport Bible and other global outlets.
To learn more about the campaign, you can visit the AS Roma website or follow the football club on Twitter @ASRomaEN. 
###
Q&A with a NCMEC CyberTipline Analyst
My name is Jenna, and I have been with the CyberTipline since October 2015. Prior to being with the CyberTipline, I worked with NCMEC's outreach team. NCMEC's CyberTipline is the nation's centralized reporting system for the online exploitation of children. We receive reports from members of the public as well as from companies like Facebook, Google, Twitter and Dropbox. These types of companies are all required to report any apparent child pornography that they are aware of to the CyberTipline.
What types of changes have you seen in the CyberTipline reports for younger children ( >13) recently?
During my time here, I have seen several new trends. Most recently and very concerning, there has been an increase in reports containing younger children who appear to have been enticed to produce child sexual abuse imagery during a live stream.
There are many apps available to kids that serve as a fun outlet to be themselves; however, I do recommend that parents, teens, and younger children learn more about risks that they may face on these platforms prior to use. Apps are not always anonymous and followers are able to capture live videos. There are also offenders who will try to entice children into undressing or playing risky games such as truth or dare. Just know that anything posted online may be saved and shared without your control. Be careful of individuals who try to trick you into doing something in exchange for likes or follows.
Have there been any changes in who is reporting to the CyberTipline (ESPs vs. self-report, etc.)?
Companies will report to the CyberTipline when they are made aware of these videos. We also see reports from the public who may have seen the video in question. The public can report the website, name, screen name or other identifying information so we can make the report available to the appropriate law enforcement agency.
Do you have any tips for young people to help them avoid online exploitation?
I encourage teens and younger children to talk to their trusted adult if they encounter someone who asks them to do something that makes them feel uncomfortable. I also suggest that children learn how to report the user on the site that they are on.
Do you have any tips for parents?
To parents, I would encourage you to learn about the different platforms that your children are using. Have ongoing safety talks and share expectations with your child about their online use (this includes video games!). NCMEC's own NetSmartz and KidSmartz both have excellent tips and talking points for parents. Some apps need an adult email address, so if you share an account with your child, review the child's history. Younger children should not have access to their live streaming apps behind a room with a closed door. If a child can listen to commenters, they are vulnerable to enticement.
If you suspect a child is being exploited online, report it to the CyberTipline.
She was only 10 years old, and she hit it out of the park.
Maddison Raines knew exactly what to do last November when she and her friend were approached by a man in a white van while walking to a park in Pinal County, Arizona.
The man told Maddison, that her brother had been in a bad accident, and her family had sent him to pick her up. But her mom had recently given her a special code word to use if anyone tried to give her a ride. When the man couldn't tell her the code, he sped off and saved herself from being abducted.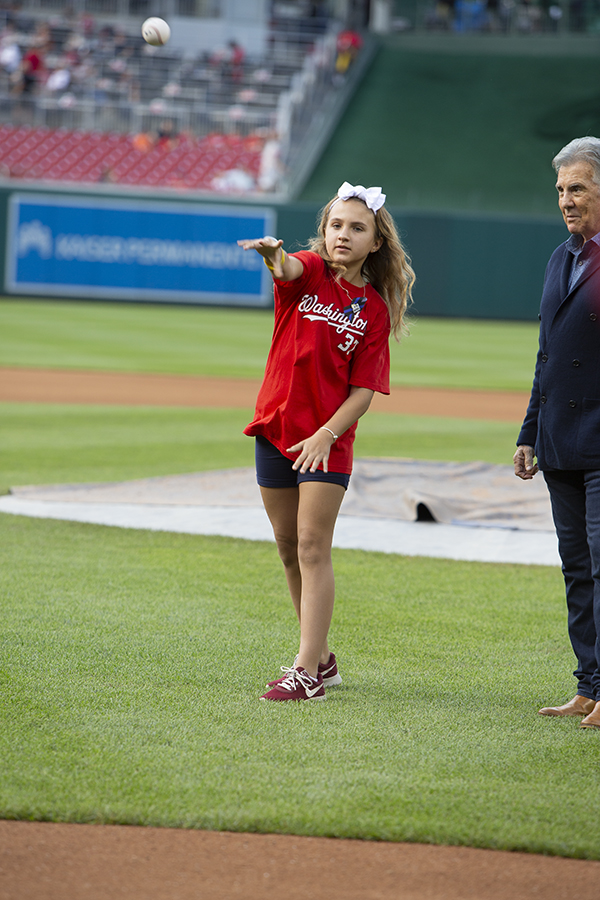 Maddison throws the first pitch.
On Wednesday, in a special ceremony at Nationals Park in Washington, D.C., the National Center for Missing & Exploited Children (NCMEC) honored Maddison and our 2019 Law Enforcement Heroes who work on the front lines of child safety.
NCMEC's president and CEO, John Clark, congratulated this year's honorees and said he wished his nonprofit organization could honor all of law enforcement. Cops just don't get enough credit, he said.
John Walsh, who founded NCMEC 35 years ago along with his wife, Reve,ˊ after their 6-year-old son, Adam, was abducted and murdered, presented the "Courage Award" to Maddison. 
Walsh, the host of "In Pursuit with John Walsh" and longtime host of "America's Most Wanted," praised Maddison's mother for teaching her daughter about safety and giving her a code word.
"Teaching kids how to protect themselves really works," Walsh said. "We have the best safety programs in the world (at NCMEC) – and they're all free. I wish every mom in America knew about the code word."
Maddison, now 11, was given the honor of throwing out the first pitch, something she was a little nervous about. The crimefighter gave her some tips.
"Just sort of point it at the catcher," Walsh said. "Think about it – you got away from a serious pedophile. You can do it."
And that she did.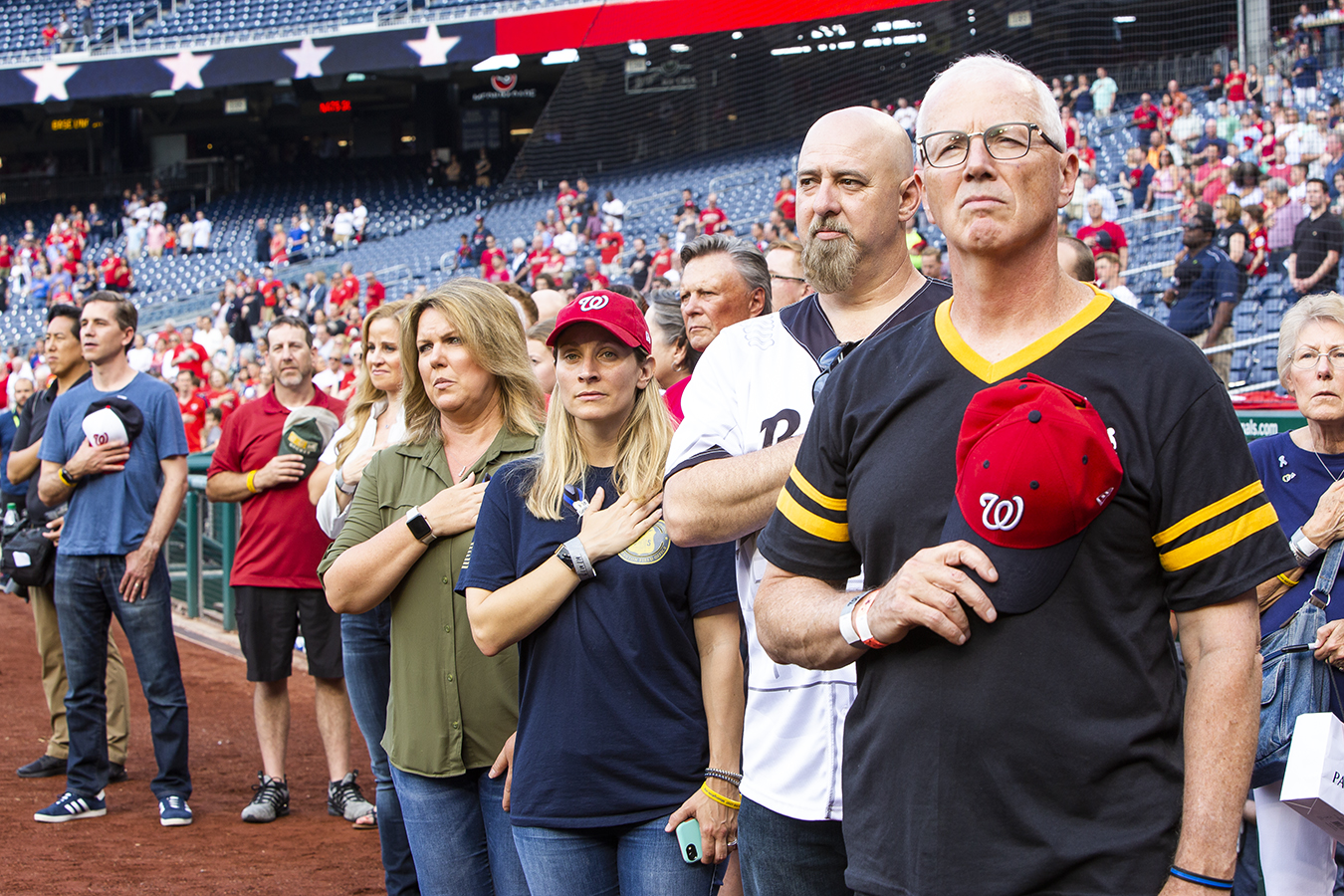 NCMEC's honorees received a standing ovation during an on-field presentation before the Nats beat the Philadelphia Phillies for the second time in one day.
Meet NCMEC's 2019 Law Enforcement Honorees: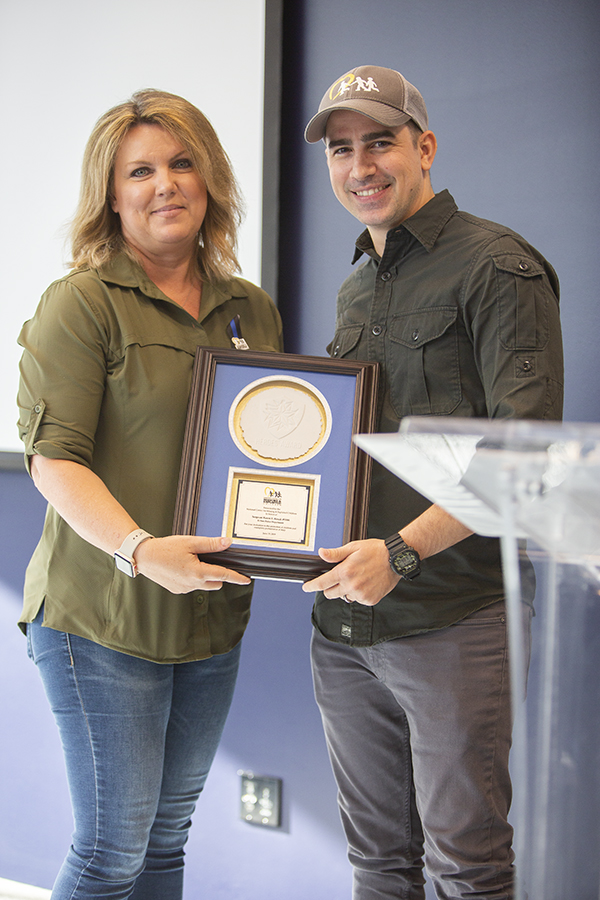 Sgt. Karen Kozak accepts her award from Callahan Walsh.
(Retired) Sgt. Karen Kozak, El Paso Police Department
On Feb. 22, 2017, a toddler was found by Mexican authorities in an abandoned warehouse near the U.S./Mexican border. He only spoke English and said that his name was "Luis." Sgt. Karen Kozak learned about the case during an AMBER Alert conference, filed an "assist outside agency" courtesy report and enlisted NCMEC's help. His picture was distributed to hundreds of media outlets in the U.S. and Mexico. Sgt. Kozak worked to bring the child to El Paso for a forensic interview, DNA collection and fingerprinting.
A woman called police after seeing the story on the news and claimed that the child was her missing son, Luis Jorge Mendez who had been kidnapped by his father. Sgt. Kozak located the child's biological father and then tracked down border crossing records indicating that it was the child's mother who had abandoned Luis in Mexico.
Sgt. Kozak's work didn't end there. Mexican authorities would not release Luis back to his father without DNA testing. Because of the extraordinary efforts of Sgt. Kozak, Luis was returned to his father in Albuquerque, New Mexico on June 30, 2017 and his mother was charged with three criminal offenses.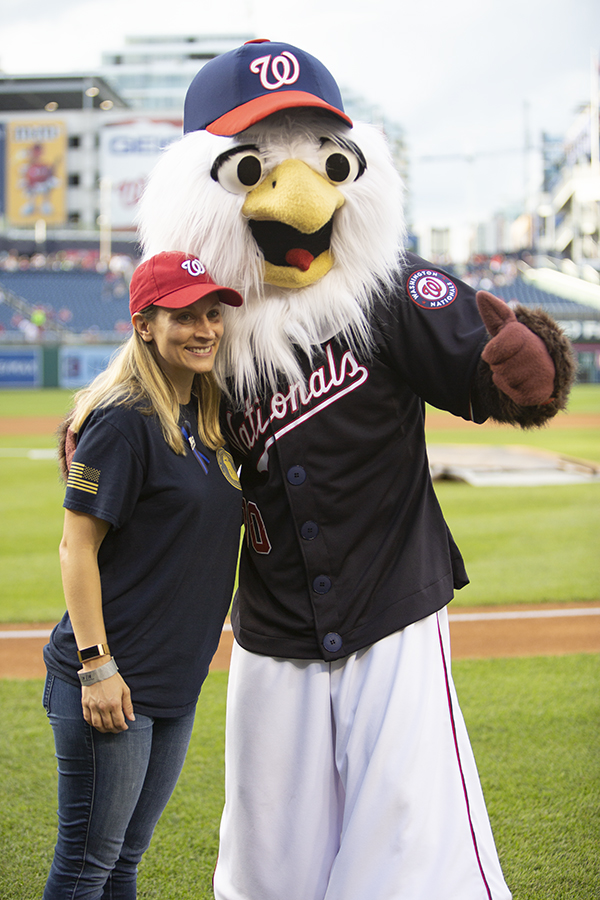 FBI Special Agent Laura Calvillo with the Nationals mascot.
FBI Special Agent Laura Calvillo
On June 16, 2017, a security guard at a hotel in Arlington County, Virginia contacted 911 after seeing a young girl in one of the rooms where he saw a high volume of older males coming and going. Arlington County patrol officers determined that she was a child trafficking victim who was missing from Arizona.

FBI Special Agent Laura Calvillo was dispatched to begin working with the Special Victims detectives and patrol officers. The male suspects already fled the scene, but authorities were able to identify the suspects and their vehicles. Due to Special Agent Laura Calvillo's extraordinary efforts and dedication to the case, investigators located and arrested other suspects involved.
After determining that it was not in the child's best interest to be sent back to Arizona, Special Agent Calvillo worked to help the child get back on track with her education, provided therapeutic resources and helped her develop a plan for the future. The suspects were prosecuted and convicted for sex trafficking a child and sentenced to a range of 5-25 years in prison.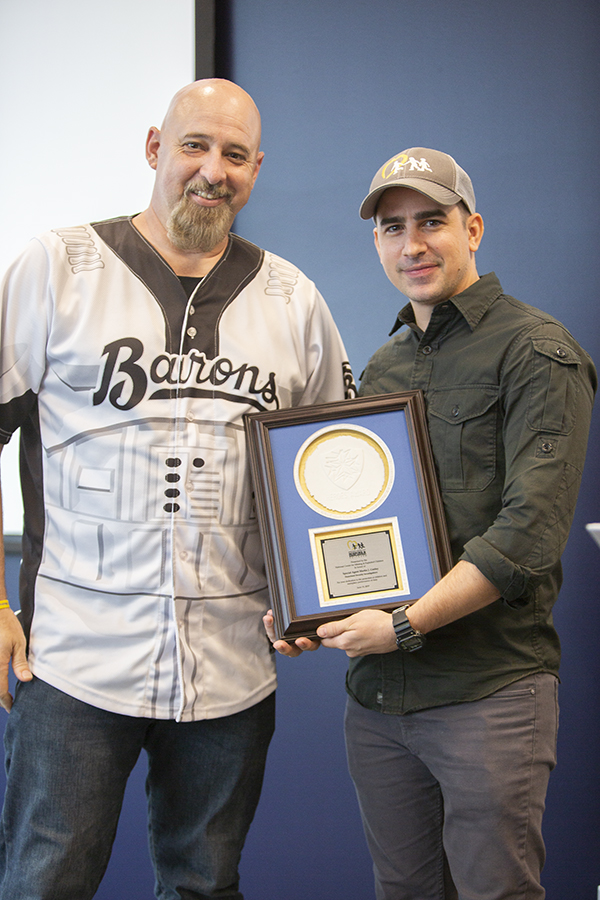 Deputy Assistant Director Dave Denton accepts an award from Callahan Walsh.
Homeland Security Investigations Agents from Portland, Maine
In August 2015, HSI agents from the Portland, Maine field office began an investigation that led them to the Philippines after discovering that a woman there was using live-streaming videos to sexually exploit children for paying customers worldwide. HSI agents made contact with her and posed as a potential client during a conversation via social media. She offered a live sex show of underage children in exchange for compensation.

After further investigation in conjunction with HSI Attaché Manila and Philippine authorities, the HSI agents uncovered the location where the woman was conducting the live-streaming videos. On Oct. 15, 2015, law enforcement conducted a real-time surveillance operation with HSI agents in Portland, Maine, posing as a client, and asking that the suspect show the children who would be featured before payment would be sent. The suspect agreed, and the HSI agents were able to determine that the victims were in the home with the suspect.
The operation resulted in the arrest of the suspect, two accomplices and the recovery of five child trafficking victims ages 9-12. The suspect and the two accomplices were all convicted and sentenced for their crimes.
Deputy Assistant Director Dave Denton, from Homeland Security Cyber Crimes Center, accepted the award on behalf of these "amazing agents."
"The partnership we have with NCMEC allows us to do these cases," Denton said. "It's one of the most valuable partnerships we have, because there are no cases more important than those where you can save children."
Special thanks to our top sponsors for this event: Facebook, Kohl's, CAS Reigler, Charter Communications, Google, Lifetouch, Old Navy, Pennie and Gary Abramson and Uber. 
As the campers arrived at the Girl Scout camp in Oklahoma on June 12, 1977, the camp was buzzing with excitement. For some, like 8-year-old Lori Farmer, it would be the first ever summer camp experience. It was an opportunity to make new friends, sleep in tents and tell ghost stories. That night, the campers climbed into their tents in anticipation of the first full day of camp that would begin the next morning.
But when the campers awoke, excitement quickly turned to horror.
On the morning of June 13, 1977, a camp counselor who was on her way to the showers came across a horrific scene. Just a few yards from where they slept in tents, the bodies of three campers were discovered laying on a trail that led to the nearby showers. The campers were identified as Lori Farmer (8), Michelle Guse (9) and Denise Milner (10). They had been beaten, raped and murdered during the night.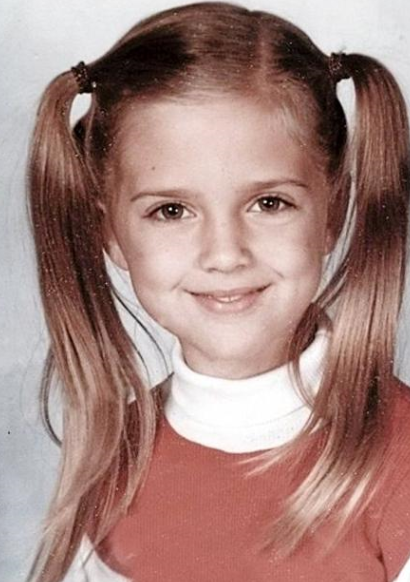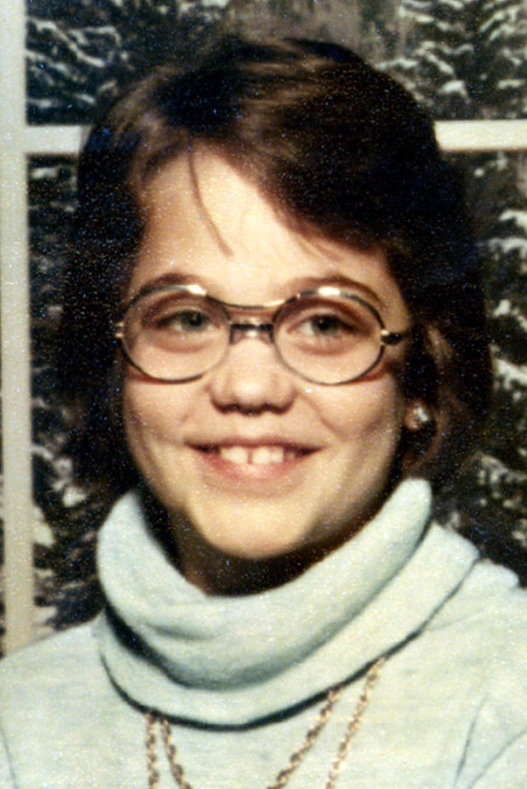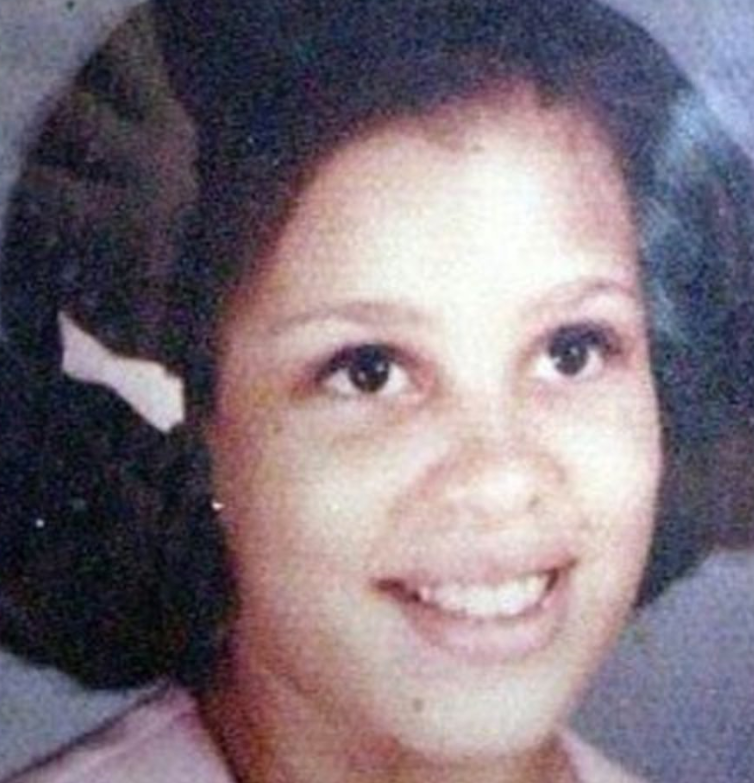 News of the murders quickly spread and families raced back to the camp, hoping and praying that their child was safe. As the camp began to clear out, law enforcement conducted what would become the largest manhunt in Oklahoma history.
Now 42 years later, the case remains unsolved and continues to haunt the friends and families of these little girls, but it has also inspired them to help other families.
Sheryl Stokes was a childhood friend of Lori Farmer and because of Lori's tragic death, Sheryl joined the Family Advocacy Division here at NCMEC to help other families through tragedies.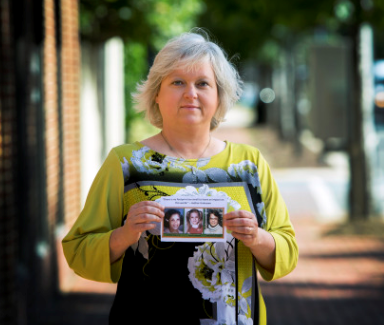 Sheryl Stokes of NCMEC
"There were no resources available for these families, no one for them to turn to as they navigated their way through this horrific ordeal," explains Stokes. "I wanted to be a part of the Family Advocacy team at NCMEC to ensure that families have options and someone to turn to when faced with tragedies."
Lori Farmer's mother, Sheri Farmer, shares the same sentiment surrounding the lack of resources available to families dealing with a tragedy at that time. In addition, she writes of the guilt she feels and her thoughts as another year passes without her daughter.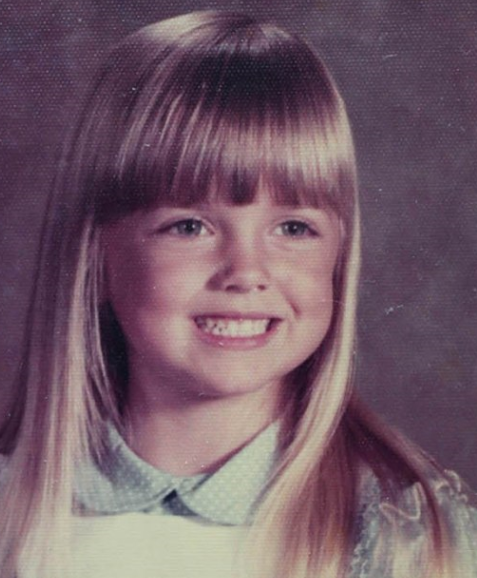 Lori Farmer
As another year passes since our precious daughter was murdered on her first night of Girl Scout camp, I am again consumed with guilt…guilt of sending our little girl off to camp that did not do more to protect her.
We needed more from the Girl Scouts. More help, compassion and empathy as we navigated this journey.
Another year passes and the guilt remains.
I hope that Lori forgives us. And I hope when people buy Girl Scout cookies, they remember the faces of the three little girls, Lori, Michelle and Denise, whose lives were taken too soon.
We have gotten through this unthinkable ordeal with our faith in God and with the love and support of our family, friends and law enforcement.  We cannot thank them enough for all that they have done for us over the years.
I ask you to remember these three little girls. I will never give up hope that one day we will find the answers we so desperately need. 
Although Lori suffered a tragic death, her mother and childhood friend, Sheryl, were determined to make sure that Lori did not die in vain. Knowing what she went through and the helplessness that she felt, Sheri and her husband established the Oklahoma chapter of Parents of Murdered Children, which they led for 15 years. In her role, here at NCMEC, Sheryl continues to be a shoulder for families to lean on and a person they can turn to for resources and guidance. Sheri and Sheryl continue to tell Lori's story and have turned their heartache into action.
To learn more about the victim and family support resources available through the National Center for Missing & Exploited Children please visit our website: http://www.missingkids.org/ourwork/support  
###
Three Victims ID'd in Allenstown Barrel Mystery
6/6/19 - Law enforcement in New Hampshire announced today that after nearly 40 years, three murder victims found in steel barrels near Bear Brook State Park have been identified. The fourth victim, a little girl 2-4 years old, remains unidentified.
For more information about the case, check out this video:
If you have any information, please call the National Center for Missing & Exploited Children at 1-800-THE-LOST.
###
Most AMBER Alerts are Family Abductions
The 2-month-old girl was last seen wearing a white onesie with blue and purple flowers. Her last known location: a gray and pink car seat in her dad's 2005 Dodge Stratus.
Arkansas State Police knew the infant could be in extreme danger and issued an AMBER Alert with a description of the car. The child's mother, who'd been left battered and bleeding on the side of a road, had told police he had brandished a knife and threatened to kill her and their baby.
Someone who'd seen the alert spotted the Dodge Stratus, which had been abandoned. Further investigation led to the suspect and the safe recovery of the child. The AMBER Alert used in the infant's abduction was one of 161 issued across the country last year – 155 of which resulted in recoveries.
The abduction last year in Winslow, Arkansas underscores a national trend we've seen at The National Center for Missing & Exploited Children over the last five years: More than half of AMBER Alerts, which are issued in the most serious child abduction cases, involve family members. Last year, more than 60% were family abductions.
That contrasts sharply with a common misconception that family abductions – far more prevalent than stranger abductions – aren't harmful because the child is with a parent or relative. In fact, family abductions can be extremely violent – in some cases deadly – as an angry family member takes revenge on another through their children.
"We see as much violence in these cases as we do in stranger abductions," says Bob Lowery, who runs NCMEC's Missing Children Division. "Family abductions are very concerning. We cannot ever minimize the dangers children face under these circumstances."
A snapshot of last year's 161 AMBER Alerts vividly illustrates Lowery's point:
·       A father in Ohio abducted his three children, ages 4, 2 and 6 months, and threatened to kill them.
·       An Oklahoma mother restrained two of her children, repeatedly stabbed a third, set her house on fire and then fled with her 8-year-old son.
·       A 7-month-old girl in Virginia was taken by her father, who was a registered sex offender and believed to be armed.
·       A 2-year-old boy in Texas was forcibly abducted by his non-custodial father, hitting the child's grandmother with his car when he fled with his girlfriend and the child.
·       A father in New Jersey abducted his 10-month-old child after assaulting the child's mother.
The children in these abductions were all recovered safely, sometimes released by the abductors themselves when they realized an AMBER Alert had been issued and an entire community was looking for them.
Once law enforcement issues an alert, NCMEC broadcasts the information to a wider, geographically targeted audience through a network of internet content providers, the trucking industry, social networking websites, hotels, digital billboards and the wireless industry.
Out of the 161 alerts last year, 60% were for family abductions, 35% for non-family abductions (rarely a stranger), 4% for a category of lost, injured or otherwise missing and 1% for endangered runaways. At the end of the year, 11 children remained missing and seven children were recovered deceased.
AMBER Alerts have been an important tool for law enforcement ever since Rae-Leigh Bradbury became the first child rescued using one in 1998. Rae-Leigh was eight weeks old when she was abducted by her babysitter. After an AMBER Alert was issued in Arlington, Texas, it only took 90 minutes for someone to spot the babysitter's turquoise truck.
Since that fateful day, more than 957 children have been rescued as a direct result of an AMBER Alert. Of the 161 AMBER Alerts issued last year, it's known that 34 children involved in 28 cases were recovered specifically through the alert.
Thousands more children have been safely recovered when they've been featured in an alert, but it's not always possible to determine if a tip that led to a recovery was called in by someone who had seen the alert or if the child was found through other investigative measures, according to Carly Tapp, who oversees NCMEC's role in the AMBER Alert program, which is administered by the Justice Department.
"AMBER Alerts are just one of many tools law enforcement can use to find a missing child quickly," says Tapp. "We try to highlight cases where we can confidently attribute the safe rescue of a child to an AMBER Alert, and we take care not to inflate that number."
As was the case with Rae-Leigh, most children featured in AMBER Alerts last year were girls under age 1, and most were taken by someone they knew, such as a family member, babysitter or acquaintance. The gender breakdown overall has been roughly equal over the years.
In cases where it was known where a child was reported missing last year, most were at home, some at a store. Other kids were taken from schools, snatched off a street or from Social Services placements.
Rae-Leigh and John Walsh at the 2019 Hope Awards.
Today, Rae-Leigh is a 20-year-old sophomore at the University of Texas in Austin, and she's become a symbol of hope for all families of missing children. She was honored on May 18 at NCMEC's annual Hope Awards.
The college student has become an AMBER Alert goodwill ambassador and uses every opportunity to spread the word that she is living proof that they really work.
"The tremendous success of the program is almost exclusively reliant on those concerned citizens calling in and reporting sightings and tips to law enforcement," says Lowery, who came to NCMEC after a long career in law enforcement.  "The public must serve as the 'eyes and ears of law enforcement.' The lives of these children depend on it."
To see NCMEC's 2018 AMBER Alert Report, click here.